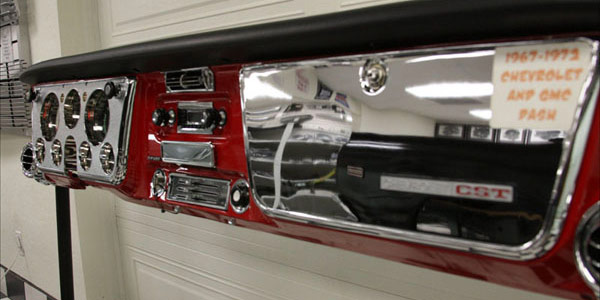 Classic Truck Accessories
If you are in search of restoration parts for your 1955-87 Chevy or GMC project well you're in luck because you just found a gold mine. The Chrome Guy offers the largest selection of classic truck, blazer, and suburban truck accessories in Glendale and Phoenix, AZ, hands down. Come into our 2,000 square foot showroom and browse the huge selection of restoration parts that you can take home with you today! No more waiting for your truck accessories to arrive only to find out that they were damaged and not what you thought you were ordering (picture not matching the part you received). Come feel the difference of doing business with a family-owned and operated not a corporate business that you are just another number to. We have the knowledge and experience to get the restoration parts and auto accessories you need at a fair price.
Auto Accessories We Stock:
Sheet metal – fenders, doors, hoods, bedsides, tailgates, inner fenders, roll pans, front bed panels, and much more.
Patch panels – rocker panels, floor pans, footwell, cab supports, pillar patches, cab corners, fender patches, firewalls, roofs, and much more.
Weatherstripping – door to cab seals, vent seals, anti-sliding, division bars, windshield seals, hood to cowl seals, and much more.
Glass – door glass, vent glass, rear glass solid and sliding (sorry we don't sell windshields)
Interior – carpet, dash pads, seats, dash clusters, gauges, steering wheels, knobs heater and a/c controls, glove box liners, locksets, ignition switches, radios, bezels, door panels, and much more.
Exterior – park, side marker, and taillight lenses, grilles, bumpers in chrome and paintable, emblems, side moldings, tailgate banners, headlights, fender trim, and much more.
Seat belts – we have lap belts in standard push button and chrome lift latch, retractable lap belts, three-point shoulder belts, in many colors to choose from.
Way more restoration parts to choose from the best way to see what all we offer is to come by and check us out in person!
Contact us or stop by today to see if we have the auto accessories or AN fittings you're looking for at 623-934-2333